Cre8tives is a marketing and innovation firm with a direct effective approach to your marketing & communication needs.
With over 20 years of experience in building various retail brands, I have (Stephan Schneider) always had the need to master as much knowledge as possible of various aspects of the marketing profession. Through my knowledge of the various development and production methods, marketing costs were kept to a minimum and this knowledge itself brought more creativity into the company.
This creativity has led to a number of striking creative ideas that have helped various brands to keep the competition a step behind. In Addition, I have gathered a network of reliable and efficient partners around us. 
I would like to to make an appointment to look at a more creative approach to your marketing needs.
At Least as interesting is a by Cre8tives performed Marketing Assessment. In a relatively short period of time, I will analyse the marketing expenses of your business and give an advice on how to work just as effectively at less cost.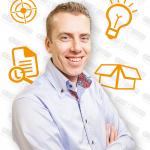 Cre8tives likes to come up with new innovations and concepts for your company.
Setting up or developing your own brand can be very important when an organisation wants to distinguish itself through various innovations.
With our unique packaging doors will be opened at most customers.
More impact during your event or scholarship participation. 
Give your customers clear insights on complex issues.